The Hot New Job That Pays Six Figures: AI Prompt Engineering
Back in 2017, a report by Dell Technologies and the Institute Of The Future stated that 85% of the jobs that will exist in 2030 haven't been invented yet. We're now a little under halfway there, and while I'm still not sure exactly how well that prediction will play out, we've certainly seen some dramatic changes to the way we work.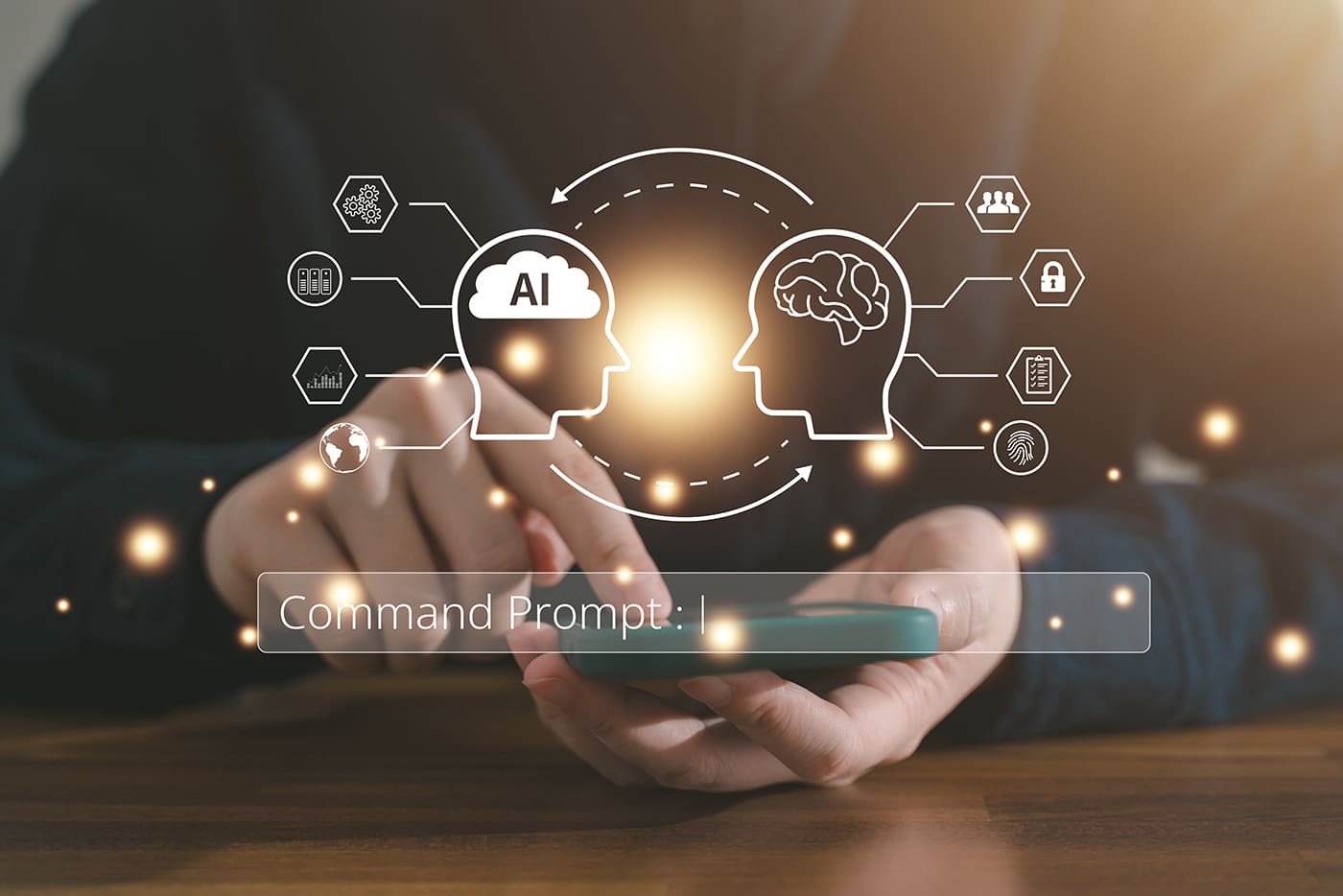 One job that's currently being tipped to have a bright future is the newly emerging field of prompt engineering. A prompt engineer is someone who is an expert at getting the new generation of generative AI applications such as ChatGPT or Google Bard to do what they want.
Reportedly, prompt engineers require little to nothing in the way of technical knowledge. After all, as Andrej Karpathy, former head of AI at Tesla and now working for ChatGPT creator OpenAI, puts it, "the hottest new programming language is English." What's more, it's a role that's currently commanding salaries of up to $335,000.
 Sounds tempting? Well, let's take a look at what might make someone a good candidate to become a prompt engineer, what background and skills are required, and who's hiring them. Is it really a job of the future, or is it just a product of the currently over-inflated state of the AI hype cycle?
What is a prompt engineer?
Generative AI tools – particularly those that are capable of creating text, computer code, and graphics – are causing a great deal of excitement (and a fair bit of worry) right now. This is because they can potentially take care of a lot of the day-to-day grind of workers in many different roles ranging from marketers to HR, law, computer programming, and data analysts.
These sorts of tools put a lot of power in people's hands, but if everyone has access to the same technology, how can we use it while still expressing our individuality and creativity? And how do we make sure our work stands out above that of other people and creates a competitive edge for our businesses?
This is where prompt engineering skills come in. Learning to get the best results from generative AI is a skill that needs to be learned and honed, just like becoming professionally adept in any other computer software.
Often this can be an iterative process. A vague, general prompt will get a vague, general response, but it's a start, and from there, it can be refined. The engineer uses their human judgment and communication skills to spot what's lacking in the AI-generated work and refines their prompts until they get the result they want.
Using natural language generating (NLG) AI like ChatGPT to write the code for a useful software application is a good example.
Say you have an idea for a new app – you might want to create a tool that lets shift workers at your company arrange ride-sharing journeys to work and back home in order to reduce the business's carbon footprint.
If you simply tell ChatGPT to write this app for you, it's going to fall over. The code is too complex for it to output in one go, and it doesn't have the data it needs to do the job.
It's perfectly possible that it can do it, though – if the job is broken down into appropriate chunks and if it's provided with all the necessary data.
A good prompt engineer can be thought of as a "project manager" for an AI workforce, overseeing the completion of individual tasks that make up the job and ensuring all the workers (AI agents) have the tools (data) they need to get it done.
Another useful concept in prompt engineering is roles. This allows more relevant and engaging responses to be generated by defining the "persona" of the AI. Just as a human might answer a question a different way depending on whether they are, for example, a teacher, a scientist, a philosopher, or a comedian, a prompt engineer can define a personality, traits, and beliefs that should inform the AI's responses.
What skills are needed?
Many of the skills needed to get the best results from generative AI applications are those that we consider to be soft skills as opposed to hard, technical skills.
First and perhaps foremost are communication skills. You need to be able to express what you want the AI to do in a precise and clear way, just like if you were giving instructions or training to a human workforce.
You will need attention to detail – the greater depth you can go into about exactly what type of response or content you are looking for, the more successful you will be at prompt engineering.
Also essential are good organizational skills. You need to be able to identify the individual elements of a piece of work and instruct the AI on how to work through them systematically.
Data skills are very useful, too, as you need to be able to work out what information the AI needs to get the job done, where to find it, and what format it should be in to get the AI to process it.
Subject matter expertise is also beneficial, as not every output from generative AI applications is correct, and people with subject knowledge will find it easier to evaluate the responses.
You also need the ability to think critically in order to assess the different approaches that can be taken to getting the AI to complete a given task and decide which ones are likely to work.
And project management and planning skills are important in order to identify areas where generative AI can be useful within your organization and roll-out strategies for using it to create value.
Who is hiring prompt engineers?
Companies ranging from digital advertising agencies to software developers, healthcare providers, and utility companies are advertising for prompt engineers.
Time reports that the number of job postings containing GPT rose by 51% between 2021 and 2022.
California AI startup Anthropic says that its roles are a hybrid of "programming, instructing and teaching" and advertises salaries of between $280,000 and $375,000.
London-based digital agency Rehab is looking for prompt engineers who can prototype new applications of LLM technology, develop their ability to fine-tune and communicate with language models, and maintain an up-to-date knowledge of the field.
And Boston Children's Hospital in Massachusetts is looking for prompt engineers to deploy large language models to assist with healthcare research and clinical practice.
How Do I Learn Prompt Engineering?
Although it's a very new field, there are already a number of courses available online that will teach the ins and outs of prompt engineering.
Online course portal Udemy offers a number of courses in generative AI prompt engineering, including ones focused on mastering ChatGPT and using Midjourney to create AI images.
The Next-Level Prompt Engineering with AI online course promises to teach students to create effective prompts that will give them a competitive edge over everyone else trying to use AI to automate their tasks.
Cloud Academy has a super-short beginner-level introduction called ChatGPT Prompt Engineering that teaches the basics of chaining prompts together, as well as training ChatGPT to take on a specialist role.
Datacamp also has an Introduction to ChatGPT course that teaches best practices for writing prompts, as well as covering ways that the chatbot can be used across different businesses.
And Class Central has a number of free prompt engineering courses, including Prompt Engineering Overview, A Crash Course on Chat GPT for Beginners, Get Started with Midjourney, and Automate Useful Professional Tasks Using Open AI.
Remember how amazed we were when ChatGPT made its debut just a year ago? Well, as we've since learned, that was only the beginning.[...]
Metaverse has undoubtedly been one of the most talked-about concepts of the year. At the start of 2022, the focus was on Facebook's surprise re-branding of itself to Meta Platforms.[...]
Sign up to Stay in Touch!
Bernard Marr is a world-renowned futurist, influencer and thought leader in the fields of business and technology, with a passion for using technology for the good of humanity.
He is a multi-award-winning and internationally best-selling author of over 20 books, writes a regular column for Forbes and advises and works with many of the world's best-known organisations.
He has a combined following of 4 million people across his social media channels and newsletters and was ranked by LinkedIn as one of the top 5 business influencers in the world.