How Artificial Intelligence, Data And Analytics Are Transforming Formula One In 2023
Formula One (F1) has always been a technology-driven sport. Behind every car tearing up the circuit at 250 mph is a team of engineers and scientists competing to wrangle every advantage, leveraging the latest innovations in data, analytics and high-performance computing.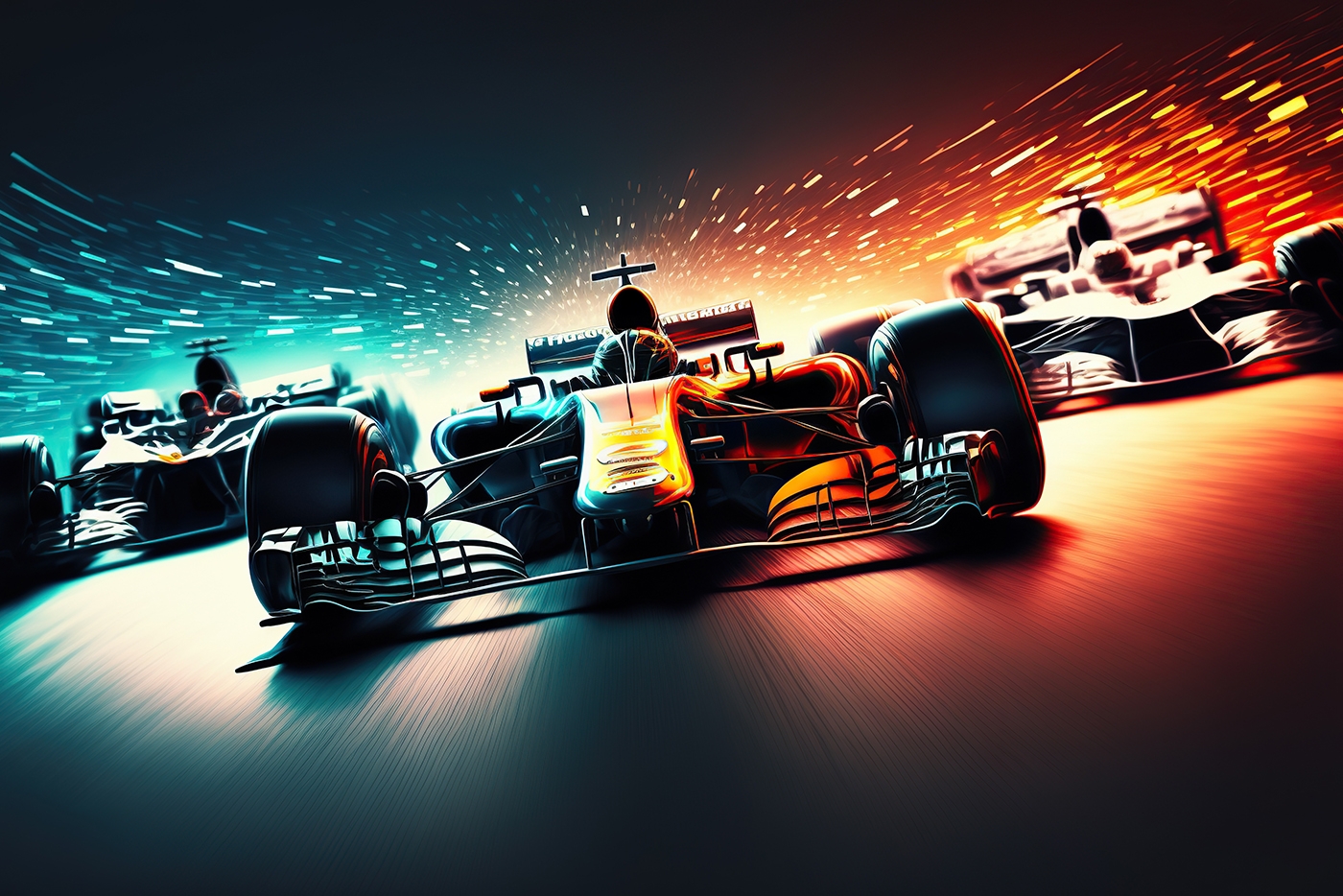 Right now, as is the case in every industry, artificial intelligence (AI) is driving a wave of disruption, transforming car design, race performance and fan experience alike.
As Christian Horner, CEO of Oracle Red Bull Racing, says, "Data is in the team's lifeblood. Every element of performance – how we run a race, how we develop a car, how we select and analyze drivers – it's all driven by data."
As a Formula One fan myself, I've been very excited to get the opportunity to visit and work with several world-class teams – most recently, these include Red Bull and McLaren.
This has allowed me to glean some fascinating insights into how cutting-edge technology – in particular AI and data analytics - is being used, to forge a competitive advantage and push cars over the finish line faster than ever before. In this article, I will share some of them, as well as discuss what the future may have in store for the most tech-driven sport on the planet.
Computational Fluid Dynamics
A car's aerodynamics is one of the most important factors when it comes to performance on the track. Modeling the way that airflow interacts with the car as it travels at speed is part of a field of study known as computational fluid dynamics (CFD). Conducting sophisticated studies of this element of the car's performance is a key use case for technology in F1 today.
Data is collected from cars as they take part in real race and practice sessions – with the average car fitted with over 300 sensors and transmitting around 3 GB of telemetry data per race.
Recently, I spoke to Rob Smedley, whose career in F1 has taken him from Williams to Ferrari and now to his current role as a technical consultant with F1.
One important development that's taken place in this field over the past year has seen CFD applied to re-orient the sport with fan expectations. This was possible because, thanks to fan feedback, the F1 knew that race audiences wanted to see closer "wheel-to-wheel" racing action. However, the aerodynamic "wake models" widely in use until recently were not conducive to this type of racing, as they created strong turbulence in the wake of the vehicles, making it difficult for opponents to follow closely behind.
This led to a collaborative project between F1, the governing body FIA, and AWS, their technology partner, to determine what alterations could be made to the aerodynamics of the vehicles to allow for closer racing in the 2022 – 2023 season.
The result of this, Smedley told me, was "a product which actually gave us closer racing."
There are three main uses for CFD in F1. These are part of the design process for new cars, to test out the performance of new components to study their effects on aerodynamics, and to troubleshoot problems when cars are not working as well as they should be.
It isn't without its challenges – conducting CFD requires access to large amounts of high-performance compute power as well as highly skilled specialists in order to run the complex simulations.
However, teams acknowledge that the benefits far exceed the costs, and the technology is credited with saving teams large amounts of both time and money.
Simulations, Digital Twins and Virtual Racing
AI-powered simulations are used by F1 teams to model billions of potential race parameters in order to determine what variables are most likely to lead to favorable outcomes.
The cutting-edge data and analytics expertise provided by partners like AWS, Dell and Oracle mean that the impact of everything, including weather, competitor behaviors, pit stop strategies, track conditions, collisions, and mechanical failures, can all be predicted more accurately than ever before.
Simulations are used to test the durability of cars, assessing how well new designs are likely to stand up to the rigors of high-speed racing. This enables engineering teams to identify weak points and potential points of failure during the simulation phase. This is far cheaper than discovering them on the track – an important factor when teams have strict limits on how much money can be spent developing and designing their cars each season.
Williams boss James Vowels has commented that AI is the only technology that can make it possible to get at the value hidden in the huge amount of data generated and transmitted during a modern F1 race. He recently told the BBC, "We're going with prototype cars that are changing nearly race-on-race … different tracks, different tires … the right way of doing that is to use modeling tools that will run millions of race scenarios."
AI-powered models and simulations are also used to train drivers, allowing them to learn tracks and develop their racing skills without risking injury or expensive damage to vehicles. Although teams are permitted to keep much of the data generated and captured during races confidential, they are obliged to make certain information available to the F1 as well as to opposing teams. This includes GPS data of the path taken by the car around the circuit on race days. This real-world data enables drivers to train by racing simulated models of their opponents.
One interesting development in this field is the recent inclusion of Formula One in the AWS Deep Racer project. This is a machine learning-powered, cloud-based 3D racing simulator where racers pit simulated autonomous vehicles against each other in a bid to complete laps in the fastest time. Smedley was one of those involved in this project, working alongside driver Daniel Ricardo to generate data to assist with the car's navigation. He told me, "There are big plans for this program … to bring it closer to Formula One … even to have a full-scale Formula One car autonomously racing around a track."
The Power of Partnerships
Building partnerships with technology providers is an essential strategy for both F1 teams and the racing league itself.
Speaking about his team's partnership with data specialists Alteryx, Zack Brown, managing director of McLaren, told me, "I think where Alteryx helps us … is it's one thing to get data, it's another thing to amalgamate it, get it quicky, and get the most relevant data. Otherwise, it's just a lot of noise.
"The more accurate data you have, the more different types of data … the better your decision-making can be."
By choosing the right strategic partners, teams benefit from technical expertise as well as new insights into how and where technology can be applied, leaving them free to concentrate on the business of winning races.
Another McLaren partner is Dell, which provides high-performance computing solutions that drive many of the team's simulation and CFD initiatives. One system that gathers data from cars in motion in order to feed into simulation and create more accurate digital twins is capable of streaming 100,000 data points per second.
For six years, the Mercedes AMG Petronas team partnered with data specialists TIBCO, enabling them to turn data into insights informing race strategy and car design.
And another hugely successful partnership is that between last year's drivers and constructors' winning team Red Bull Racing and Oracle. The team uses the technical expertise of the US software and database giants to power its racing simulations as well as in its engineering development and fan engagement operations.
So significant is the partnership to the team's success that they incorporated it into the team name (now called Oracle Red Bull Racing) CEO Christian Horner has said, "Oracle Cloud is playing a key role in the outcome of every single Grand Prix that we've won this year and every Grand Prix where we've achieved significant results."
Cloud Insights and Engagement
The final use case for data in F1 that we will cover here revolves around providing insights that encourage deeper fan engagement and interaction.
F1 is a complicated sport, and there's often far more going on in a race than will be apparent to audiences watching on TV at home. After all cameras can only cover one stretch of the track at a time. If you're on the grandstand watching live, then your view is even more limited.
Thanks to its five-year partnership with AWS, F1 is able to leverage information, including live car positioning data and timing data, in order to create the insights that are delivered to audiences during the race, alongside the broadcast camera coverage and commentary.
Zak Brown says, "An F1 track is five kilometers long with 20 cars on it. So the TV can only concentrate on one, two or three cars at a time … there's another four and a half kilometers of track where there are various actions going on that could be really key to how the race strategy is going to unfold."
Identifying and highlighting these insights involves using machine learning algorithms that use all the data sources available to them to create a narrative around the race.
"We pop these data insights up onto the screen so that the fans can understand it. We're finding that fans are really leaning into that level of insight."
The Future of Technology in F1
The hot topic in technology circles right now is generative AI, thanks to the massive transformative potential – and popularity - of applications like ChatGPT and Stable Diffusion. In F1, organizers are just as excited about what the technology will mean for the future of the sport and, in particular, the fan experience.
Smedley tells me, "It's about modeling that demographic – the 500 million fans worldwide – using AI techniques, using generative AI … trying to understand them much better and give them products they actually want."
"You know, Formula One should never lose its DNA. It's about 20 gladiators that go out in these … 'on-the-ground fighter jets' … and race for two hours on a Sunday afternoon.
"It should never lose that DNA. But we should be able to tailor it around that to give the fans, especially the new demographic of fans, much more of what they want."
As we have seen, AI and machine learning certainly have the potential to do just that. One thing that's certain is that we can count on technology to continue creating more closely-contested racing action, as well as bringing us faster, more powerful, and aerodynamic cars and creating exciting, immersive experiences for fans.
Sign up to Stay in Touch!
Bernard Marr is a world-renowned futurist, influencer and thought leader in the fields of business and technology, with a passion for using technology for the good of humanity.
He is a multi-award-winning and internationally best-selling author of over 20 books, writes a regular column for Forbes and advises and works with many of the world's best-known organisations.
He has a combined following of 4 million people across his social media channels and newsletters and was ranked by LinkedIn as one of the top 5 business influencers in the world.