Artificial Intelligence in Germany
Historically, Germany has been an innovative global leader. However, when it comes to artificial intelligence, the country had a bit of a slow start. Now, there is an AI strategy in place, and several German companies are actively researching and implementing artificial intelligence practices into operations, products, and services. Here we look at how artificial intelligence is being used in Germany today.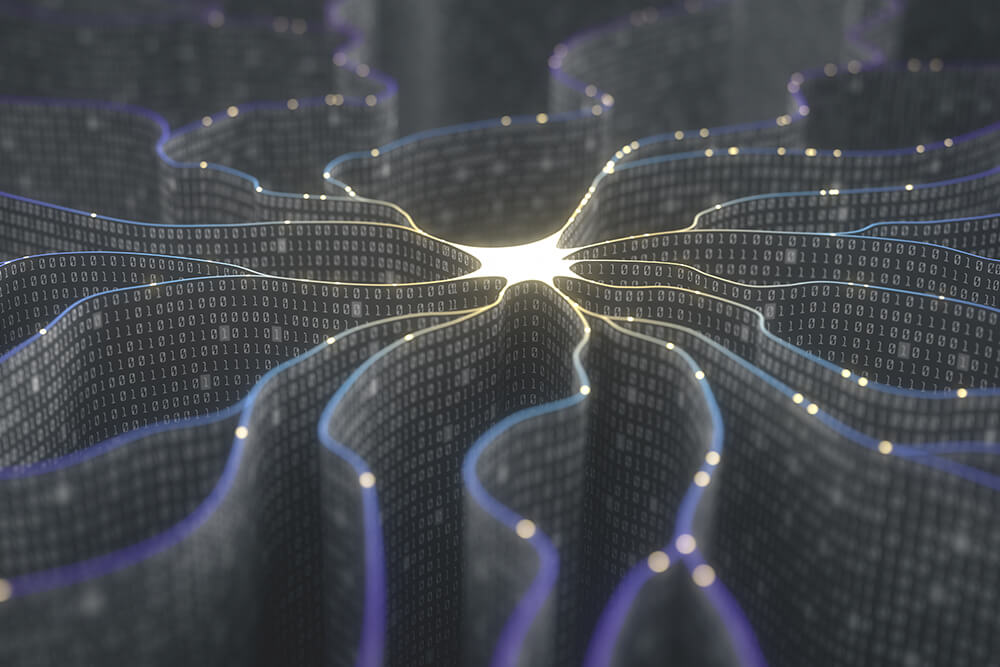 Germany's Artificial Intelligence Strategy
While some believe, myself included, that Germany was a little late to the artificial intelligence party, the country unveiled its AI strategy in November 2018. With a long history of being one of the most innovative countries in the world, Germany's government is ready to become one of the technology's global leaders by galvanizing artificial intelligence research, development, and application. While the country's planned investment into AI is only $500 million a year compared to the investment of $6 billion by venture capitalists in the United States and Beijing's $2 billion (plus more for the rest of China) seems to immediately put it out of any serious AI competition, German AI researchers are focused on quality over quantity.
Germany's artificial intelligence strategy proposed 14 goals and 12 fields of action. Some of these include strengthen AI research, use competitions to drive innovation and encourage companies of all sizes to use and develop AI applications. In addition, some of the goals include to keep the focus of AI on the benefits for German citizens, to have a high level of IT security with AI initiatives, and to have AI research legally and ethically embedded in the country.
German AI Innovation and Development
The surge in artificial adoption in Germany is primarily focused on traditional businesses that are starting to use it. The country's economy is driven by smaller- and mid-sized companies, and what seems to be missing from what is witnessed in the United States, UK, and China is a strong AI startup culture. While Germany might be lagging behind some other AI-driven countries, here are how some German companies are adopting artificial intelligence.
German e-commerce giant Otto uses artificial intelligence algorithms to improve online activities and specifically reduce the number of returns. Using a deep learning algorithm originally developed for CERN experiments, Otto tries to improve its predictions about what people want to buy so they can order those products to be able to ship them to the customer without delay. The algorithm predicts with 90 percent accuracy what will be sold in the next 30 days.
Another German e-tailer giant, Zalando, provides a personalized experience to its 29 million customers thanks to using artificial intelligence and machine learning. The company's Algorithmic Fashion Companion is a digital outfit recommendation tool that helps customers develop a wish list based on what they've purchased or expressed interest in before. In addition, the company's operations are optimized through the use of artificial intelligence, including its supply chain and to prevent fraud. In particular, during Cyber Week, artificial intelligence makes it possible for the company to create an exemplary customer experience and offer multiple payments and delivery options as well as apply discounts specific to that week.
Siemens AG, one of the world's largest providers of railway infrastructure, is making things that seemed impossible such as trains that are never late, reality thanks to artificial intelligence. They use sensors, big data, and predictive analytics to guarantee this 100% reliability. In other areas, Siemens uses AI for autonomous optimization, monitoring smart grids, and for predictive maintenance of its industrial facilities.
You might not be surprised to learn that BMW uses the latest AI technologies to drive decisions and operations, especially in the development of fully autonomous vehicles, but artificial intelligence is a critical tool for the company's quality assurance initiatives from predictive maintenance to paint shop dust particle analysis. Additionally, BMW uses artificial intelligence to improve efficiency in its plants.
Artificial intelligence helps companies in all industries, including Allianz Insurance. Allianz uses artificial intelligence in its Defendant Hub that helps process Stage 3 injury claims. This application improves operational efficiency and allows the company to analyze the data to gain insights for the future. Additionally, the company leverages AI and machine learning in its investment processes.
German company Braun gives us evidence that artificial intelligence can impact just about everything—including your toothbrush. Using artificial intelligence, Braun's toothbrush called Genius X will be able to coach you on how to improve when brushing your teeth. It uses built-in sensors to understand how you brush your teeth and then sends data to your app with advice on how to do it better.
Well-known German company Daimler uses artificial intelligence in the development of its autonomous vehicles but also uses it to take flight in autonomous drones. The company's Volocopter air taxi is an electrically powered modern machine powered by the latest AI technology. Daimler hopes the Volocopter will be the transportation of the future.
Bertelsmann, one of the world's largest media conglomerates, hosted a hackathon to determine ways to use data and artificial intelligence to solve business challenges. The teams focused on a variety of tasks, including programming automated podcast listening recommendations, voice-controlled search functions, and more. Bertelsmann's Arvato Systems has an AI Competence Cluster to develop intelligent solutions based on AI.
When COVID-19 kept people out of stores, Adidas shifted its focus to its online platform. It planned to use artificial intelligence to study its supply chain management and use 3D printing to produce the midsoles of the Adidas 4D running shoes. Adidas also offers a "style suggestion" tool for customers that is customized to each individual's searches. Using machine learning, the tool learns the preferences of the customer and explores possible suggestions for styles, products, colors, and more.
Where to go from here
If you would like to know more about Artificial Intelligence, check out my articles on:
Or browse the Artificial Intelligence & Machine Learning to find the metrics that matter most to you.
Sign up to Stay in Touch!
Bernard Marr is a world-renowned futurist, influencer and thought leader in the fields of business and technology, with a passion for using technology for the good of humanity.
He is a multi-award-winning and internationally best-selling author of over 20 books, writes a regular column for Forbes and advises and works with many of the world's best-known organisations.
He has a combined following of 4 million people across his social media channels and newsletters and was ranked by LinkedIn as one of the top 5 business influencers in the world.