Augmented and Virtual Reality in Social Media
If you're longing to experience an enticing virtual world that looks like the one from the book Ready Player One, you'll be happy to hear that Facebook and other social media companies are developing tools that move us closer to that reality.
With the increased engagement in social media during the height of the pandemic, paired with a surge in development in AR and VR technology, we see fascinating advances in augmented and virtual reality in the social media realm.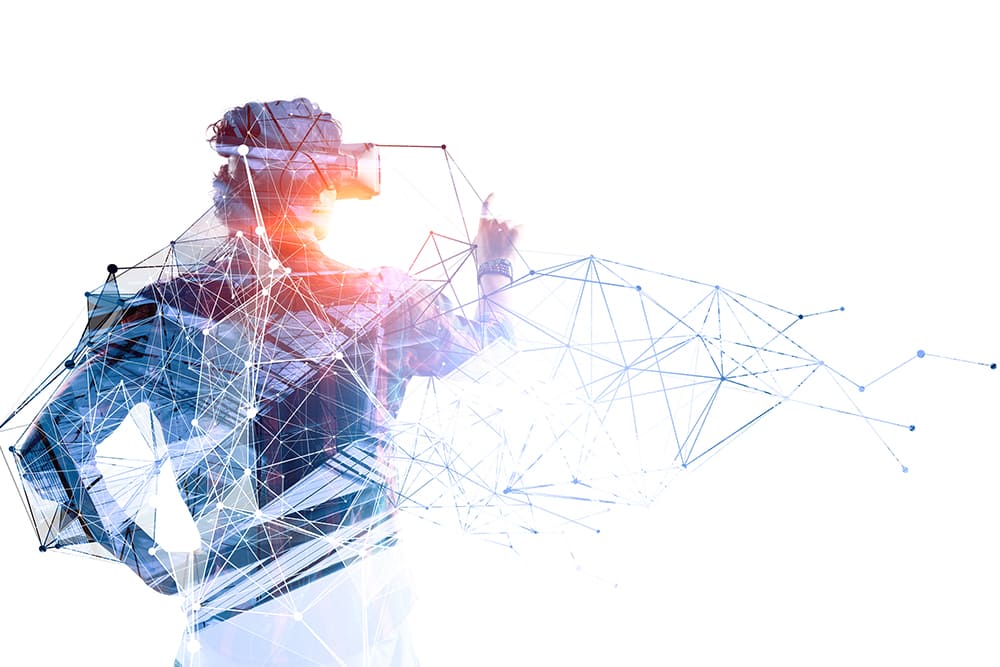 Let's take a closer look at some of the ways companies are making social media more immersive for users, with the help of AR and VR.
AR Filters and Lenses Provide Big Opportunities
Seamlessly integrated augmented reality is already a part of many social media users' online experiences. In fact, AR has become such a popular feature of social media that these tools are helping to drive the widespread mainstream adoption of AR.
Snapchat pioneered the use of AR filters and lenses that add overlays like mustaches, sunglasses, rainbows, or rabbit ears to users' faces, allowing them to view those features moving with them as they snap photos or shoot videos. Now that AR technology is being harnessed to provide more immersive shopping experiences and potentially turn Snapchat into an e-commerce platform.
Snapchat has already partnered with big brands like Gucci and American Eagle to provide try-on experiences in the app, and plan to expand to more companies. One of the selling points of virtual try-on rooms, Snapchat says, is the potential to reduce return rates because customers can see how things look before they pull out their credit cards.
People are also using AR through mobile-first formats like Stories. Facebook reports that across the entire Facebook app family, including Facebook and Instagram, users are sharing over 1 billion stories every day. Many of these users personalize their Stories with fun animations or filters before sharing them with friends and family.
Facebook's studio tool, Spark AR, enables people and brands to create their own AR effects for Facebook and Instagram, then publish those effects to the social platforms and view metrics on impressions, captures, and shares. Creators can bring in their own 3D objects to insert into projects, or choose Spark AR's library of ready-made objects. Anyone with interest in AR to access essential functions and create effects, with or without code. It's a great way for brands to be creative and engaging as they experiment with ways to provide immersive experiences for their customers.
Facebook's Big Leap Into Virtual Reality
When Facebook and other social networks started, they were a way for us to post online or catch up with friends with text, photo, or video content. Now virtual reality has the potential to provide a more immersive experience, allowing users a large variety of ways to interact and explore.
Virtual social media users can create avatars, then don headsets to walk around within customized virtual worlds, build places they want to visit, meet up with friends, play games, or explore other users' published worlds.
Social VR has been around for a while, with companies like VRChat, AltSpace, and Rec Room increasing in market share.
Now Facebook is offering its own virtual reality social networking platform called Horizon. Facebook has stated that Horizon's mission is "to create meaningful connections between people and foster a strong sense of community for everyone who joins Horizon." They also offer easy building tools that let users collaborate with others to bring ideas to life within the VR.
Facebook Horizon is currently in invite-only public beta, but since Facebook owns Oculus, it seems likely that Horizon may eventually come pre-installed on all Oculus devices.
Creating New Customer Experiences with Virtual Social Media
The opportunities to expand augmented reality (AR) and virtual reality (VR) in social media are endless.
As new tools and platforms develop, and virtual social possibilities expand, I recommend all companies determine how and when AR and VR can provide immersive customer experiences at all stages of the buying journey.
For more real-world examples of how extended reality is being used right now, check out my new book, Extended Reality in Practice: 100+ Amazing Ways Virtual, Augmented and Mixed Reality Are Changing Business and Society
Stay up-to-date
Get updates straight to your inbox
Join my 1 million newsletter subscribers
Never miss any new content