KPIs (Key Performance Indicators) are the vital navigation instruments that help decision-makers see how well an organisation, business unit, project or individual is performing in relation to their strategic goals and objectives.
Over the past 25 years I have helped countless global companies and governments develop relevant and meaningful KPIs and based on that experience I have created this library with some of the most useful KPIs across key business perspectives. You can simply browse this KPI example library to help you find the right measures for you and your company.
Before you dive in, however, please remember that this library should be a great starting point but you will need to customise some of the KPIs to make the relevant to your needs and you will require additional KPIs (such as specific industry benchmarks), that you won't find in any generic metrics library. The key is to start with YOUR information needs and not to rely too heavily on generic KPIs.
You can also find more detailed descriptions and worked examples in my books on KPIs.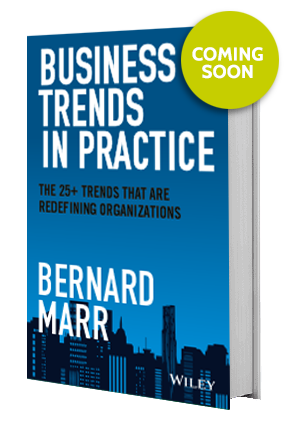 Tech Trends In Practice: The 25 Technologies That Are Driving The 4th Industrial Revolution
How will the latest technologies transform your business? Future Tech Trends in Practice will give you the knowledge of today's most important technology trends, and how to take full advantage of them to grow your business. The book presents25 real-world technology trends along with their potential contributions to organisational success. You'll learn how to integrate existing advancements and plan for those that are on the way.
In this book, best-selling author, strategic business advisor, and respected futurist Bernard Marr explains the role of technology in providing innovative businesses solutions for companies of varying sizes and across different industries. He covers wide-ranging trends and provides an overview of how companies are using these new and emerging technologies in practice.
You, too, can prepare your company for the potential and power of trending technology by examining these and other areas of innovation described in Future Tech Trends in Practice:
Artificial intelligence, including machine and deep learning
The Internet of Things and the rise of smart devices
Self-driving cars and autonomous drones
3D printing and additive manufacturing
Blockchain technology
Genomics and gene editing
Augmented, virtual and mixed reality
When you understand the technology trends that are driving success, now and into the future, you'll be better positioned to address and solve problems within your organisation.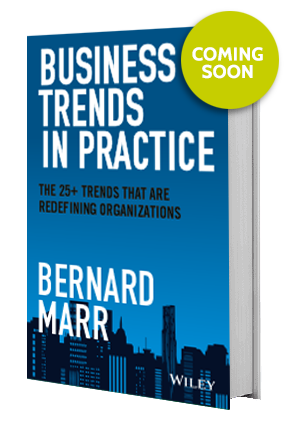 Business Trends in Practice: The 25+ Trends That are Redefining Organizations
We have never lived at a time of faster and more transformative technological and societal changes. It can be hard for executives to keep up with the developments and shifts. This book cuts through all of the hype and presents the key business trends anyone should be aware of now as they will shape businesses into the foreseeable future.

Business Trends in Practice includes case studies across all industries, with companies such as: Tesla, Ocado, Netflix, Microsoft, Google, Alibaba, Rolls Royce, Mercedes Benz, Apple, and many more. Some of the key trends the author will examine include:
The AI revolution
Robots and business processes automation
Remote working, working from home and new flexibility
Social & environmental Responsibility
Increased Diversity
As part of Bernard Marr's popular 'In Practice' series, Business Trends in Practice will help you identify the key business trends that will keep you one step ahead of the competition.
Data Strategy: How To Profit From A World Of Big Data, Analytics And Artificial Intelligence
90% of today's data was generated in the last two years and the amount of data we have available is predicted to double every two years. Data is an integral strategic asset for all businesses. Learn how to leverage this data and generate valuable insights from bestselling author and Big Data guru Bernard Marr.
Data has massive potential for all businesses when used correctly, from small organizations to tech giants and huge multinationals. But this resource is too often not being fully utilized and is far from being arguably the world's most valuable resource. Data Strategy is the must-read guide on how to create a robust data-driven approach that will harness the power of data to revolutionize your business. Explaining how to collect, use and manage data, this book prepares any organization with the tools and strategies needed to thrive in the digital economy.
This new edition of this bestselling title is fully updated with insights on understanding your customers and markets and how to provide them with intelligent services and products. With case studies and real-world examples throughout, Bernard Marr offers unrivalled expertise on how to gain the competitive advantage in a data-driven world.
Stay up-to-date
Get updates straight to your inbox
Join my 1 million newsletter subscribers
Never miss any new content